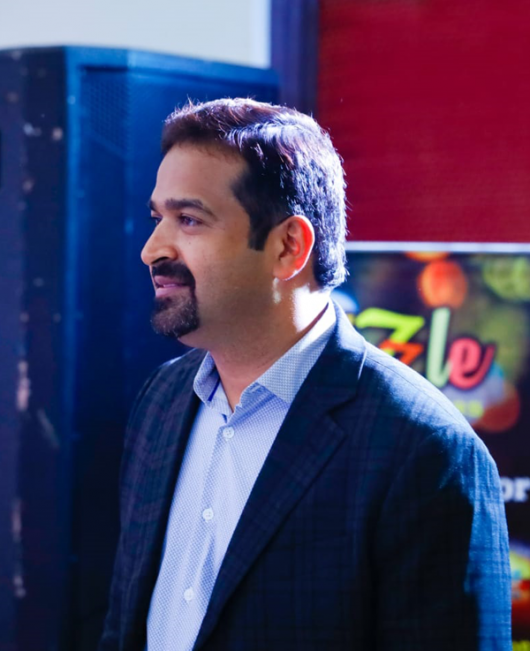 Founder & CEO
Vijay Krishnan
Vijay Krishnan is the founder and CEO of iSportz, a next-generation Sports Management and Engagement Company. With a desire to positively impact the world, Vijay has founded and grown multiple successful ventures.

In 2011 he co-founded Integrass, an IT services company, with Arathi Rajagopalan. The company has grown to a multi-million dollar startup with 150+ employees and offices in the USA, Mexico and India. Integrass has received numerous awards, including Inc 5000, Orlando Fast 50, and Florida 100.

Sabareesh is a real estate company founded in 2013 by Vijay and Arathi that specializes in investments, property renovation, and property administration in the US and India. This venture has 100+ units under ownership and has also grown into a multi-million dollar firm.


Vijay's passion for making a positive impact in the world is evident in his projects, which include Greenway World, an e-commerce IT platform company that enables the procurement, packaging, and delivery of global eco-friendly products with a minimized carbon footprint.
He also founded Ignite Equity Partners to help other entrepreneurs on their journey. Vijay's entrepreneurial success has enabled him to give back to the community through the Krishnan Charitable Foundation, which focuses on education, health, poverty, and other areas to improve lives and the community. The foundation is funded by a percentage of profits from Vijay's ventures.
Before starting his entrepreneurial journey, Vijay held Director-level leadership and senior roles with Fiserv, Finastra, and Motorola. He is grateful for these opportunities, which have helped shape his leadership style and business acumen.
With a strong track record of successful ventures and a passion for positively impacting the world, Vijay Krishnan is a visionary leader in the sports management and engagement industry.